The Amerikkkan summer of 2014 has been rife with the racist cop murders of several innocent Black men, along with the extreme tensions which followed those murders. Clearly the murder of Eric Garner (murdered July 17th) and most especially of Michael Brown (murdered Aug. 9th) have garnered massive national and world-wide media attention, as well they should have.
However, there are two other egregious cases which took place this summer that have not had the same level of coverage. But their murders are still very much all the horrific.
Ezell Ford was ruthlessly gunned down on August 11th 2014 in South Los Angeles, CA. According to his family, 25 year-old Ford had been diagnosed as having had schizophrenia and bipolar disorder. He possibly was going through a mental crisis at the time of his death. He was never accused of a crime. He was unarmed and non-threatening. The victim is survived by his parents Tritobia and Edsell Ford, both 42. As in other police murders, accounts of how/why Ford was killed range widely between the L.A. police regime and civilian witnesses. Initial police reports have released propaganda claiming that officers attempted a stop on Ford, when a "struggle" ensued, Ford tried to grab one of the officer's gun from his holster, and Ford was shot in self-defense. However, according to witnesses Ezell was lying on the ground and in no way was he resisting nor was he in any physical contact with the two bastard-ass cops when they shot him three times in the back.
The two pigs who murdered Ford have been identified as officers Sharlton Wampler and Antonio Villegas of the Los Angeles Police Gestapo (LAPG). Wampler and Villegas were both assigned to a so-called "gang task force" division when the murdered Ford. The killers names had been withheld for more than two weeks following Ford's murder. The LAPG finally released their names on Thursday Aug. 28th, and only after widespread community outrage over the senseless murder of yet another unarmed, innocent man. Wampler and Villegas are (respectively) 12 and 8-year gang members of the LA police regime.
Justice for Ezell Ford: fed up with police murders, citizens march in downtown L.A., protesting Ford's murder by two L.A. cop thugs.
Another parent mourns: Ford's mother Tritobia Ford rendered inconsolable upon hearing the news of her son's murder by L.A. police monsters.
Ford's mother Tritobia being comforted by family during her son's funeral, held on Sat. Aug. 30th.
A young relative mourns at Ezell Ford's funeral. Could HE be next???
Ezell Ford's funeral was held on Saturday Aug. 30th in SouthWest L.A. and was attended by hundreds of mourners. They were there to pay a final farewell to a young man who had been described by friends and family as a 'free spirit' who had caused harm to no one, even as he struggled with mental illness his entire life. Officers
Wampler and
Villegas are currently on PAID VACATION, as the investigation into Ford's death continues...
Meanwhile, a homemade Rap video in tribute to Ford and all those lost to police terrorism has turned up on YouTube. Predictably, the L.A. terrorist police regime has made hyperbolic bullshit claims that said video "threatens" police officers. As obscene a LIE as could ever have been told by a terrorist police regime gestapo!
***************************************************************************
On Tuesday August 5th 2014 John Crawford III was gunned down by cops inside a Walmart store in Beavercreek, OH, close to Dayton. Crawford was leaning on the butt of an airsoft pellet gun in the toy section of the store, while on the cellphone with his girlfriend. He was intending to purchase the toy. Crawford had his back turned to cops before they shot him on site, without so much as a goddamned warning. He died en route to the hospital from several gunshot wounds. He was shot in the back. He was 22 years old and had two young children. Crawford was killed within seconds of bastard-ass cops arriving on the scene - despite the fact that Ohio is an open carry state!
The coward-ass police thugs who murdered Crawford have been identified as Sergeant David Darkow and Officer Sean Williams, gang members of the Beavercreek Police Gestapo (BPG).
Sgt. David Darkow and Offc. Sean Williams, the pigs who gunned down John Crawford.
http://www.racelies.com/2014/08/ohio-walmart-shooting-bombshell-racist.html
A racist, scared, zealous cop-caller had phoned in to 911 dispatch and claimed that he saw what "appeared" to be a Black man holding what "looked like" an AK-47 assault weapon. Crawford was instead holding a Crosman MK-177 airsoft pellet gun or BB gun, which was still in its packaging as he was standing in the toy aisle. It is a toy replica of a rifle and is intended for a child. The toy guns are commonly sold in most department stores. The racist POS has since been identified as Ronald Ritchie.
Ritchie, who was with his wife April Ritchie at the time, told 911 operators that Crawford was "loading bullets" into the supposed gun, "pointing" the gun at other shoppers and using the muzzle to "move" items around on the shelf. Cop thugs Darkow and Williams themselves claimed that Crawford had been "waving" the gun around in a "menacing" manner. However, upon viewing a video tape of the incident, fat bastard Ritchie then changed his story of what he told 911 operators back on Aug. 5th. Since Crawford's murder took place inside a huge big-box store, there would be dozens of cameras capturing the incident from several different angles. Neither "concerned citizen/Tea Party Patriot" Ritchie, nor the two Beavercreek pigs who murdered Crawford, seemed to realize this. Otherwise, video footage of Crawford's summary execution has not been yet released to the public. Citing reasons of not wanting to taint a potential jury pool, OH Attorney General
Mike Dewine has allowed only a few people to view the video - including Ritchie, Crawford's family, and their subsequent lawyers.
Upon viewing the footage, Crawford family attorney Michael Wright issued a statement saying that Crawford's murder had been unjustified, and that he was doing nothing wrong. Meanwhile, on Aug. 19th local residents have held a silent protest demanding that video surveillance of the murder be publically released.
Cop-calling SITCH: obese, neck-bearded, racist slob Ronald Ritchie seen here. He is the racist cop-caller who called 911 and LIED about Crawford having/loading an automatic assault weapon in a Walmart store. He has been directly implicated in Crawford's murder, fat piece-of-shit!
https://www.tumblr.com/search/Ronald+Ritchie
UPDATE: So this story just gets more and more ugly with each detail that comes out. It has since been revealed that Walmart cop-caller Ronald Ritchie not only changed his initial reasoning behind why he called 911, telling dispatchers that he saw Crawford with a weapon, but Ritchie has also admitted that he outright LIED! In fact, it turns out that the obese cop-caller is pretty much a habitual liar. He also lied about his previous ex-Marine status - apparently Ritchie at one point enlisted in the Marine Corps, but was expelled after just seven weeks after his enlistment was determined to have been 'fraudulent'. Ritchie claims it was due to "bad paperwork". Whatever.
Also, during the chaos and panic that ensued resulting from cops blowing Crawford away in a hail of bullets, a 37 year old woman was said to have collapsed while running, suffering from a medical emergency. She later died of a heart attack at a local hospital. So far, the woman's name has not been released publicly.
So, fatso cop-caller Ronald Ritchie is directly responsible for the deaths of TWO people. At the very most possible least, he has filed a false report and lied to police. As of the time of this blog entry being published, Ritchie has not faced any criminal charges, nor his wife April as an accessory to criminal acts. The two pigs who murdered Crawford - officers David Darkow and Sean Williams - have not been criminally charged nor indicted for murder. They both remain on paid vacation, pending some investigation into Crawford's death.
Where do you load the bullets?!: this is the toy gun cops and White shoppers Ronald and April Ritchie "mistook" to have been a deadly assault weapon Crawford had when he was shot down without warning inside the toy aisle of a Beavercreek, OH Walmart store.
Open-carry for Whites. Open season for Blacks - a MASSIVE double standard! Why, it's almost as if Black people live under a completely different set of rules and laws in this country.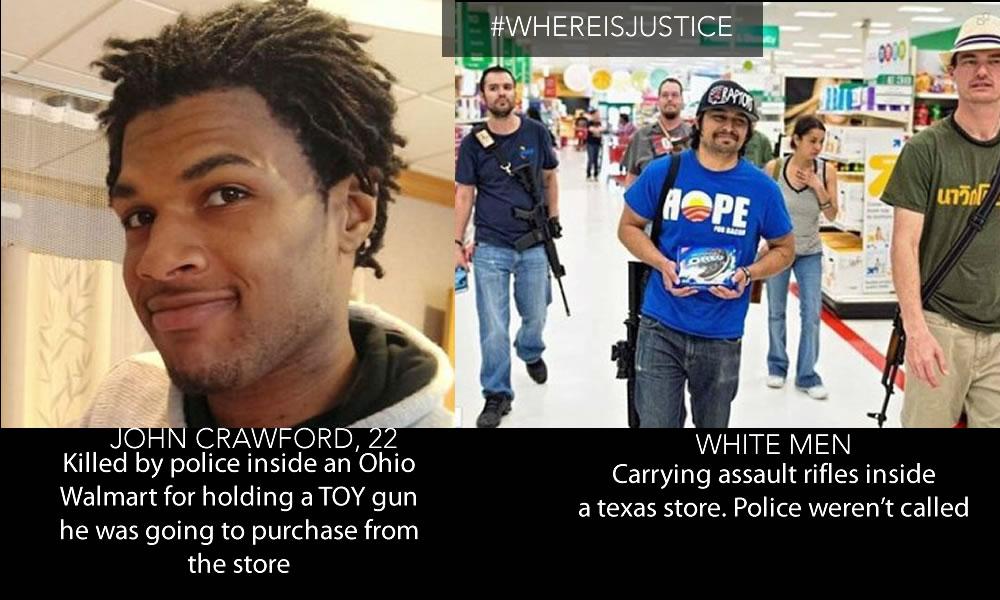 "What we saw was an unjustified killing of John Crawford," Mr. Wright told WHIO news after watching the footage. "Call it murder, call it manslaughter, call it whatever you want. It was the unjustified killing of this young man. It was unnecessary. It did not have to occur. And he was doing absolutely nothing wrong when engaged by Beavercreek police department."
LeeCee Johnson, the girlfriend of police murder victim John Crawford III, as well as mother to his two children. She was with Crawfords parents and on the phone with Crawford at the moment he was gunned down by cops. Crawford had his cell phone on speaker, so his parents as well as the mother of his children all heard him die.
The murders of Ezell Ford, John Crawford, Michael Brown, and Eric Garner all remain unresolved currently. Autopsies have been conducted, investigations are underway, grand juries are pending, parties involved have been lawyered up, protests are still on-going, and demands for justice and accountability remain strong. And since Black people live under a different set of rules and laws in this country, it will been a long time before outcomes in any of these cases are reached.
Don't hold your breath...